Mr. Liu Peng, vice chairman of China Open source software Promotion Union, delivered a speech at the conference.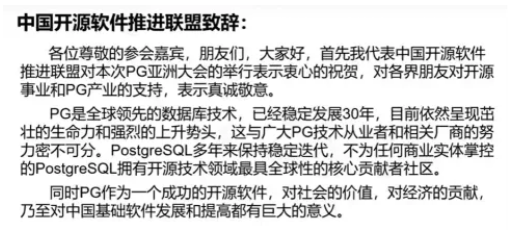 Speech by Mr. Ni Guangnan, academician of Chinese Academy of Engineering: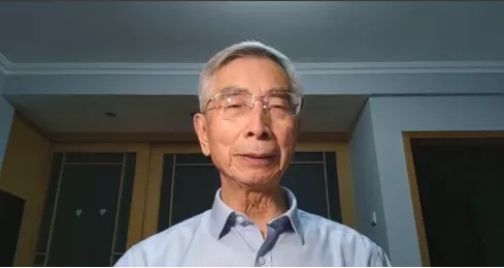 Academician Ni Guangnan first expressed warm congratulations on the holding of the PGConf.Asia 2021 Conference and sincere greetings to the representatives of various countries and open source experts attending the conference. He pointed out that open source is an important trend in the development of the world today, and open source technology is profoundly changing the pattern of the global digital economy and information industry. The holding of PGConf.Asia 2021 conference is of great value and significance to the development of open source industry, promoting the popularization of open source movement and open source culture in China, and strengthening international exchanges and cooperation.
Subsequently, Mr. Bruce Momjian, co-founder of PostgreSQL Global Development Group / Vice President of EDB, gave an English speech on < < challenges of Postgres in the future > >.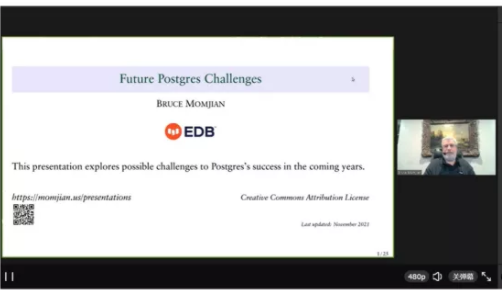 Bruce mojian, as a member of the core team of PG international community, has always been keen on sharing community themes. Bruce shared this time based on the current situation of PG, project development challenges, competitive challenges and technical challenges, mainly emphasizing that the development process of PG version has been adapting to environmental changes and constantly making breakthroughs and innovations, such as SSD optimization, virtualization,Containerization, function expansion of cloud environment, etc. Facing the future, PG version evolution will continue to optimize and iterate in terms of PG write amplification, TDE encryption and horizontal expansion.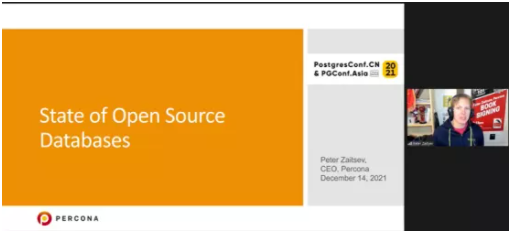 Peter Zaitsev, CEO of percona company, has been a guest of PGConf.Asia 2021 Conference for the second time. This time Peter brought us the theme sharing of < < development status of open source database > >. He mainly expressed the openness and free expansion of PG from the aspects of cloud computing, PG peripheral ecology, DAAS and k8s, so that PG and technology architecture evolution can be better integrated and promote each other's development, Meet the needs of different business scenarios. Said that as an open source database service for many years, percona company loves to embrace PG and innovate based on PG to bring value to customers.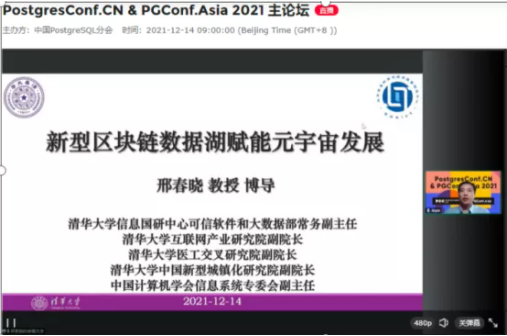 Professor Xing Chunxiao, vice president of the Information Technology Research Institute of Tsinghua University and deputy director of the Information System Committee of China Computer Federation, shared with us the most popular topics of "metaverse", blockchain and data lake, emphasizing that data management is the base of popular technology development. Only the continuous evolution and iteration of database management software can better support cutting-edge technologies, Make our life more colorful.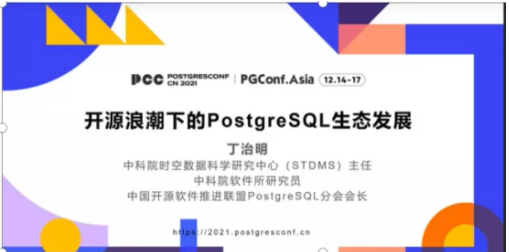 Ding Zhiming, director of space-time data Science Research Center (STDMs) of Chinese Academy of Sciences and President of China PostgreSQL Association, has the theme of "PG ecological development under the wave of open source"。In his speech, he shared the development of open source in China, the advantages of PG ecological development, how to govern the PG community, and reviewed the contributions made by Chinese open source developers in the PG version; In particular, as an active community organization in China, China PostgreSQL Association's work policy in governing the community is to cooperate with national universities, scientific research institutions, enterprise users and open source communities to improve PG China's open source community organization; Standardize and guide more PG open source enthusiasts to participate and contribute, develop and activate PG China open source community, and show China's open source strength to the world.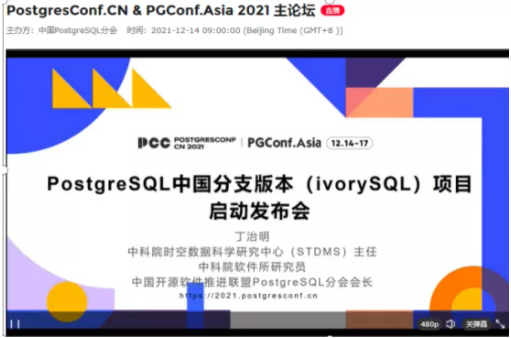 The next step is the release of the ivorysql project. Ivorysql project is a PG open source derivative project with broad ecological foundation and Chinese characteristics. Its purpose is to develop the community cooperation of Chinese developers and let engineers create greater personal and social value.
This session was organized by the early promoter of domestic PG research and practice, the new president of China PostgreSQL Association, director of Research Center of spatiotemporal data science of Chinese Academy of Sciences Professor Ding Zhiming,, presided over by Mr. Zheng Xiaojun, chief scientist of Highgo Database, and Mr. LV Haibo, chief researcher of MeiChuang Technology. They systematically and completely expounded the necessity and implementation ideas of "PostgreSQL database software + Chinese characteristics", as well as the positioning, characteristics and operation mode of ivorysql project and community. Through the release activities, the project was officially launched in China Known to the majority of PG practitioners.
Then came the release ceremony of PostgreSQL China technology selection in 2021
Awards were given to the six awards of "best database product", "China's best service provider", "best innovative enterprise", "best application case", "China's best server solution" and "China's best domestic operating system solution".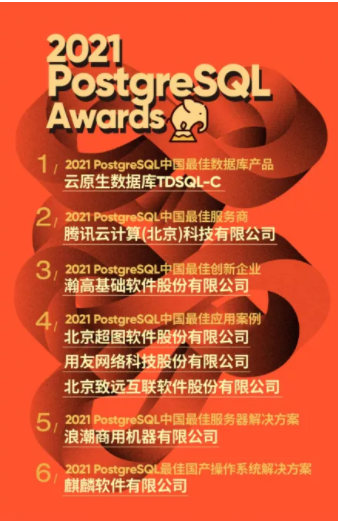 Subsequently, the 2021 China PG ACE selection and release ceremony was held,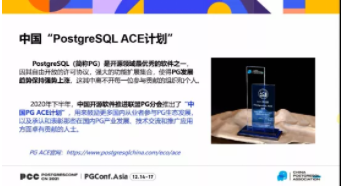 A total of 10 PG ACE Partners, 11 PG ACE and 2 PG ACE Directors were selected this year. The specific selection results are shown below or go to www.postgresqlchina.com (New PG ace members will be launched later)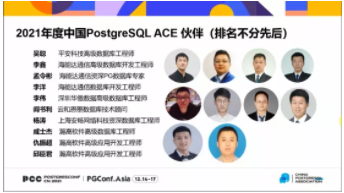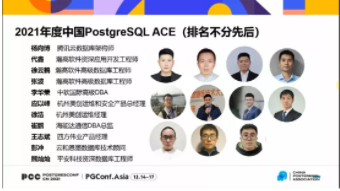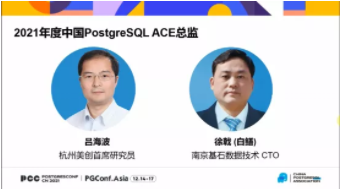 Then came the keynote speech of "ecological evolution and technical architecture sharing of Tencent cloud PostgreSQL" by Dr. Liu Shaorong, head of Tencent Cloud database technology expert group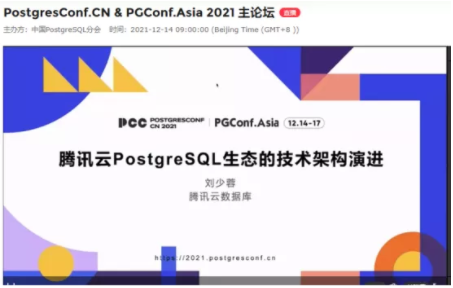 In her speech, Dr. Liu introduced the advantages of Tencent cloud PostgreSQL, the distributed transaction processing capability, security (separation of powers, data desensitization, etc.), OLAP and parallel processing capability, Oracle syntax compatibility and read-write separation function of Tencent cloud enterprise distributed database TDSQL-PG (original TBase).
Dr. Liu explained the architecture of TDSQL PG and the efficient and scalable distributed transaction design in detail. She also introduced the distributed analytical database TDSQL-A developed by Tencent. TDSQL-A provides 100% PostgreSQL compatibility, and has row and column mixed storage, multi-level compression of column data, vectorized execution engine, multiple parallel execution policies, CBO,Distributed delay materialization optimization and other core technologies developed by Tencent.
In this speech, Dr. Liu focused on TDSQL-C PostgreSQL, a Tencent Cloud native distributed database, which is a completely self-developed cloud native database. Based on the design idea of separation of storage and computing and log as database, it integrates the advantages of traditional database, cloud computing and new hardware technology, and has high availability, high reliability, high performance and extreme flexibility, It has fast recovery function, adopts lock free design, reduces kernel switching, 100% PostgreSQL compatibility and is highly compatible with Oracle. In particular, TDSQL-C PostgreSQL has deleted the full page write function in the native PostgreSQL database. In terms of changing the FPW function, this is actually a functional improvement that tests the control ability of the PostgreSQL database kernel. From this improvement, Tencent Cloud database team has a high control ability of the PostgreSQL database kernel.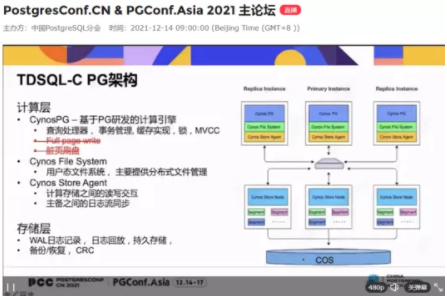 Finally, Dr. Liu made a prospect for the future of Tencent Cloud PostgreSQL from four aspects: ecology, cloud native architecture speech, new hardware and intelligence.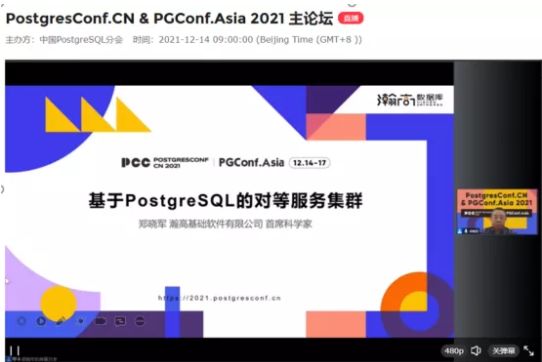 Zheng Xiaojun, chief scientist of Highgo Database, brought us < < Highgo's peer-to-peer service cluster database > >
As a well-known PostgreSQL database technology provider in China, Highgo has a R & D team proficient in database kernel, a product team proficient in database product line and a technical support team with rich practical experience. Highgo has been in the field of peer-to-peer server cluster for a long time, has invested a lot of resources in special research, and has accumulated rich technical experience. Based on the technical precipitation of these research, Highgo has formed a cluster product family with high efficiency, good stability, easy expansion and manageability. Let's review Mr. Zheng Xiaojun's sharing.
Mr. Zheng Xiaojun first gave a systematic overview of the definition of database cluster, and then popularized the concept and implementation of "peer-to-peer service cluster". Finally, Mr. Zheng Xiaojun led you to experience the database environment of Highgo peer-to-peer service cluster through operation demonstration. Through this practical operation, we have brought a new idea and method to realize peer-to-peer service cluster. Architects and product managers who pay attention to PostgreSQL database can gain new product inspiration.
In the afternoon, Feng Jian, senior technical support director of Inspur Power System Co., Ltd., first appeared in the main forum < < Inspur K1 power high-end server and PostgreSQL work together to help enterprise digital upgrading > >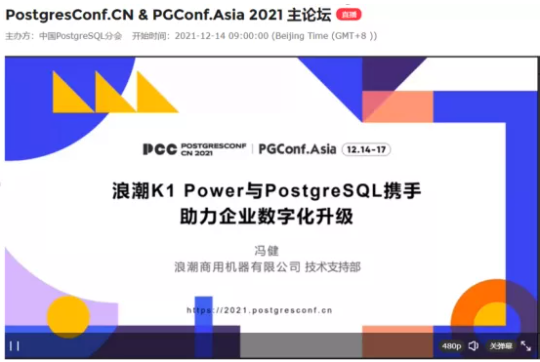 Director Feng Jian first introduced the two major product lines of K1 power and their respective market opportunities, advantages and application scenarios, demonstrated the business value of K1 power's advanced virtualization features to PostgreSQL database in four aspects, and described the best practice of running PostgreSQL database under K1 powe Linux and its uniqueness different from x86 CPU in detail. Finally, Director Feng Jian introduced GitHub powerfans community https://github.com/powerfans/ , this powerfan community is technology essence. In addition to providing the above best practices, it also provides open source software binary packages, useful tools and documents. This powerfans community provides great convenience for database enthusiasts to use the power server platform, such as friends who need the PostgreSQL RPM package under the powerlinux platform, You no longer need to make your own RPM package. Inspur Power System is ready for you! If you don't have time to digest technical essence, remember to look back!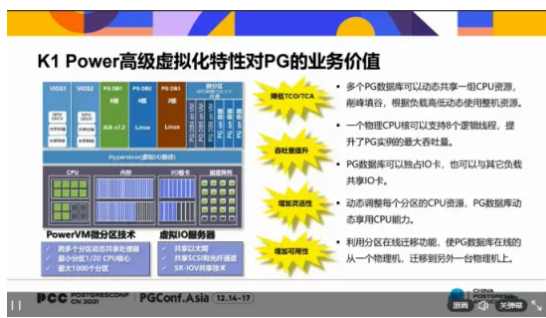 Li Zhenning, vice president of Kylin Software Co., Ltd., brought you < < Construction of open source ecological environment based on domestic environment > >. Mr. Li Zhenning shared the achievements of Kylin software in practicing open source in the field of operating system. As a leading operating system manufacturer in China, Kylin software has obtained more than 240000 hardware certifications and more than 70000 software certifications. Those who get ecology get the world. Kylin software is the faithful practitioner of this sentence.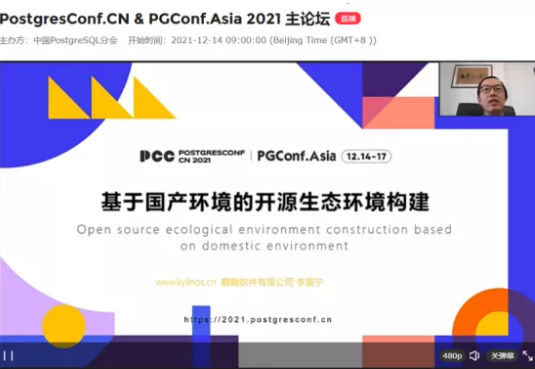 Xu Zhen, director of the Fifth Research Office of the Institute of information engineering, Chinese Academy of Sciences, brought you the sharing with the theme of < < building PostgreSQL database software with Chinese characteristics > >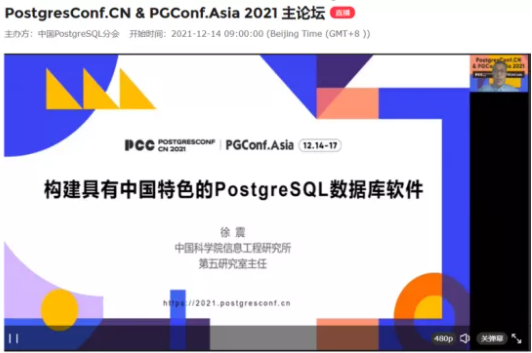 Director Xu Zhen has been engaged in research and management in the field of security and data management for a long time. As a well-known expert in the field of national information and innovation, he has a unique understanding and profound understanding of IT Localization. Based on these cognition and understanding, director Xu Zhen systematically expounded the necessity of building PostgreSQL database software with Chinese characteristics and the ways and methods to reflect this Chinese characteristics. Director Xu has always maintained a strong interest in the China PG branch version project and deeply participated in the relevant work in the early stage of the project. Architects and product managers who pay attention to localization can certainly reap product inspiration and product planning from director Xu Zhen's sharing!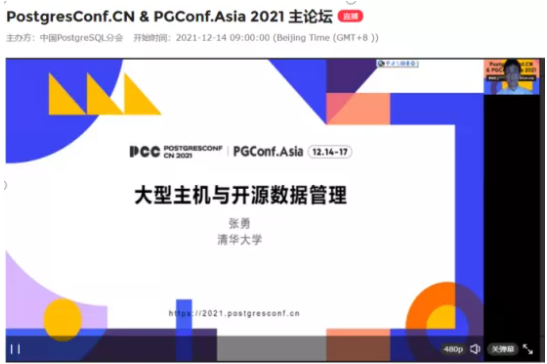 Professor Zhang Yong, deputy director of the web and software technology research center of the Information Technology Research Institute of Tsinghua University, shared with us the mainframe and open source database management. Mainly through the research on the core technology of IBM mainframe at present, combined with the key points of academic theory, this paper discusses the value and significance of mainframe as the carrier of database management software and hardware; The technical characteristics of mainframe Z/TPF are analyzed; The successful experience of China Railway 12306 ticketing system in coping with the peak of Spring Festival transportation relying on mainframe and database software architecture was shared.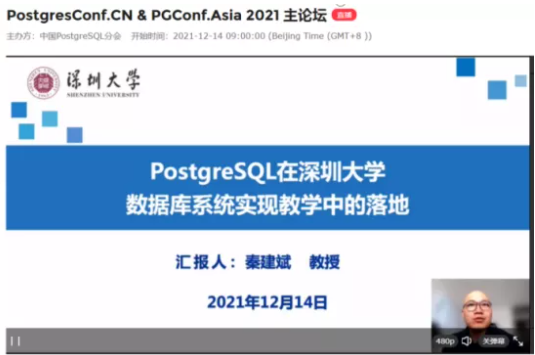 Professor Qin Jianbin, a distinguished professor of the school of computer science of Shenzhen University, showed us the achievements of PG in college teaching achieved by Shenzhen University through the production university research cooperation with PG branch, Tencent cloud and Highgo software, especially the advantages of open source PG kernel code, Systematic courses and experimental teaching have been formed, and the training of database core R & D talents has been effectively carried out, which is worthy of reference for more colleges and universities.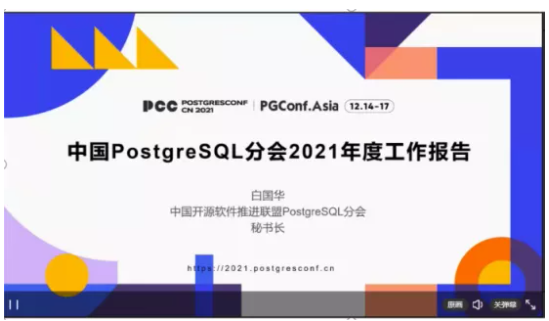 Mr. Bai Guohua, Secretary General of China PostgreSQL Association and special committee of Database Committee of China Computer Federation, finally reported to us the work achievements of China PostgreSQL Association in 2021, emphasizing that the development trend of open source PG has maintained a strong rise and exceeded the 600 mark under the global linkage; Facing the development of PG ecology at home and abroad, PG branch, together with PG international community, PG related member enterprises, national universities, training institutions and other organizational forces, has provided a good communication platform for PG experts, scholars and enterprise users at home and abroad through effective community operation, integration of production and education, training and certification, and promoted the development of PG ecology. Finally, we believe that with the participation of more organizations and enterprise users, PG will develop better and better in China.
For more exciting content, you can watch the playback later!
The playback URL is consistent with the live broadcast URL:
https://2021.postgresconf.cn/liveEntry