December 15 was PGConf Asia2021 DAY2, Seven sub forums were held. Next, the editor will take you to review each sub forum.
Mandarin sub-kernel Development forum(A)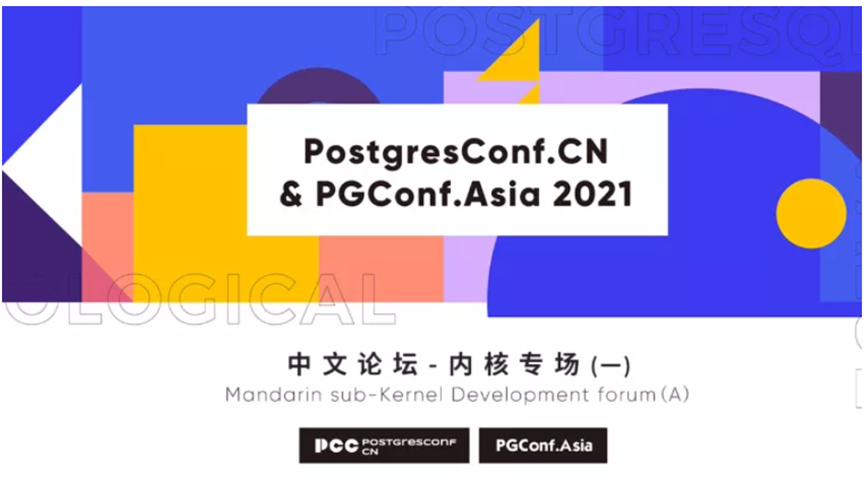 Xu Sun, expert engineer of Tencent Cloud, with the theme of < < TDSQL-C PostgreSQL master-slave architecture optimization > >. In the sharing, Mr. Xu Sun introduced a number of optimization work of Tencent Cloud on TDSQL-C PostgreSQL, including master optimization, slave optimization, master-slave architecture optimization, etc. Through these optimization work, we can see that Tencent cloud's control over the kernel code of PostgreSQL database has ranked first in China.
Juan Pan, Apache shardingsphere PMC, co-founder and CTO of Sphereex, with the theme of < < distributed and secure database ecological construction of PostgreSQL > >, which is the only database middleware topic of this conference. According to the needs of PostgreSQL in the enterprise big data scenario, with the help of the open source ecological power of Apache shardingsphere project, Ms. Pan creates a distributed secure database ecosystem to enable the open source scenario of PostgreSQL and the actual application scenario of enterprises.
Kan kan Zhao, technical director of open source enabling team of distributed database Institute of Inspur Academy of Sciences, with the theme of < < technical blueprint of industrial SQL optimizer > >, showed Dr. Zhao's in-depth grasp of database optimizer. For the future, R & D will expand the existing query optimization framework and build an industrial SQL optimizer. It includes five aspects: active query optimization, adaptive query optimization and overall query optimization.
Haibo Lv, chief kernel researcher of MeiChuang Technology, with the theme of < < research and improvement of PG kernel data consistency guarantee mechanism > >. Mr. Lv first described the PostgreSQL database solution for page splitting - FPW, then simulated the page splitting scene by intercepting system calls through experiments, and explained the solutions to page splitting of Oracle and MySQL databases in detail. Mr. Lv clearly pointed out that double writing can not solve all the page splitting problems. Based on the above demonstration, Mr. Lv proposed an optimization solution for PostgreSQL page splitting, and the solution will be open source. Please pay attention to China PostgreSQL Association to understand the open source dynamics of the scheme.
Xiaoran Wang, kernel R & D Engineer of VMware company, with the theme of < < PostgreSQL free space management (FSM) > >. Combined with postgrsql storage engine, Ms. Wang expounded the implementation mechanism of FSM from the source code level, and analyzed the main data structure, storage, concurrency and recovery in FSM code.
Bohan Zhang, co-founder of OtterTune, with the theme of < < ottertune: automatic optimization of database by machine learning > >, shared the necessity of automatic optimization by machine learning, and introduced the 7-year R & D achievements of CMU database group - the architecture of ottertune automatic optimization system, TPC-C experimental results, and the implementation practice in multiple customers (Societe Generale, booking.com).
Mandarin sub-kernel Development forum(B)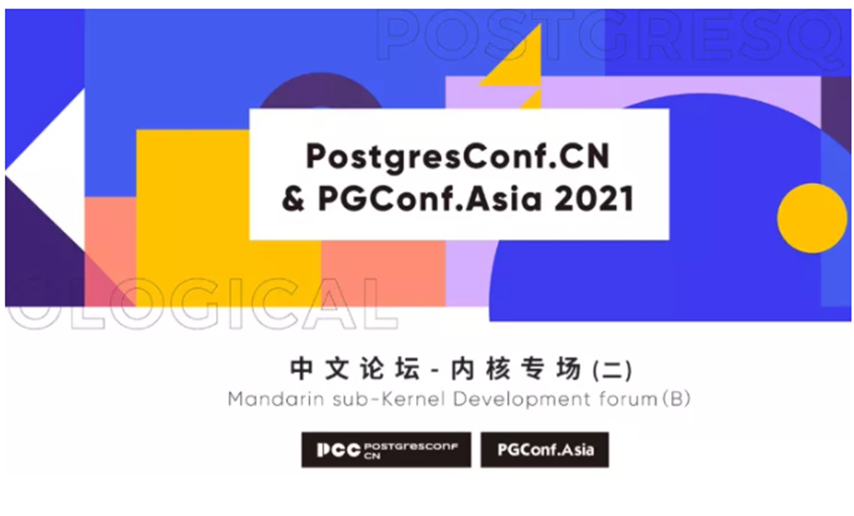 In the Mandarin sub-kernel Development forum(B), seven engineers gave us wonderful speeches:
Shujie Zhang, Huawei database technology expert, with the theme of < < yesterday, today and tomorrow of PostgreSQL > >. Mr. Zhang elaborated on the important features in PG history, such as GEQO optimizer, join recorder, Pitr, JIT, mvcc, wal, stream replication, parallel executor, etc.
Yanqing Weng, CTO of www.ymatrix.cn, with the theme of < < dancing with elephants, matrixdb space-time exploration > >. Mr. Weng explained the profound understanding of the timing scene and the challenges faced in detail, expounded the evolution trend of the timing database, and introduced the characteristic storage engine and computing engine of matrixdb database. For PGer interested in the timing database, you must remember to watch the playback.
ZTE architect Xiaoqiang Chen, with the theme of < < exploration on Optimization of PG wal log persistence mechanism > >. Mr. Chen analyzed the PG wal persistence bottleneck, sorted out the PG wal persistence process, pointed out the problems existing in PG wal persistence and the corresponding exploration ways, and friends who pay attention to wal performance optimization need to carefully understand the essences shared by Mr.Chen.
Zunbao Feng, Alibaba cloud kernel R & D Engineer, with the theme of < < architecture design of cloud native database > >, introduced polardb cloud native architecture and HTAP architecture in detail.
Chong Shang, head of database kernel R & D Department of Nanjing Kaite Information Technology Co., Ltd., with the theme of < < application of state secret SM4 in PG > >. In his speech, Mr.Shang introduced the state secret algorithm, PostgreSQL encryption status and SM4 application scenarios in detail, then explained the implementation of SM4 in PG, finally imagined the Countermeasures for SM4 encryption enhancement, PostgreSQL database enthusiasts who pay attention to the state secret algorithm must study this speech in detail.
Gexin He, a technical expert of zetuo Technology (Shenzhen) Co., Ltd., with the theme of < < implementation of distributed database based on PostgreSQL > >, introduced the solutions of kunlundb cloud native distributed database to the acid characteristics of database in detail in his speech.
Lingbin Meng, senior database development engineer of hytera Communications Co., Ltd., with the theme of < < PostgreSQL control file you don't know > >. In his speech, Mr. Meng explained the important role of PostgreSQL database control file and the method of resetting control file in detail. There are a lot of essences!
Mandarin sub-kernel Development forum(C)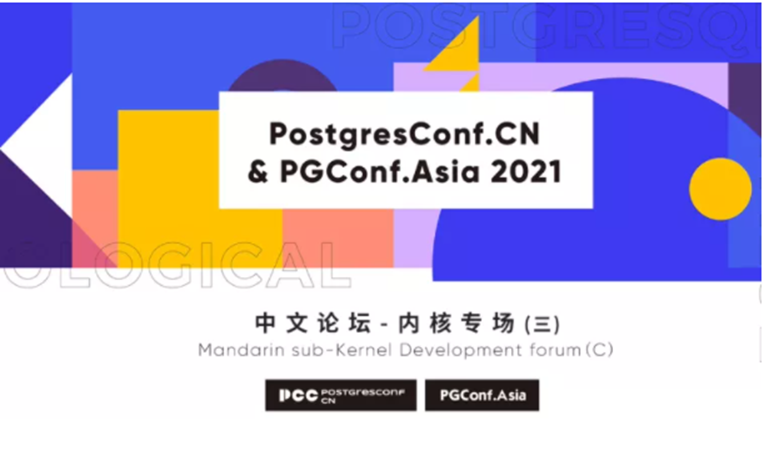 The speech theme of Xin Wu, an expert engineer of Tencent Cloud, is < < evolution of tdsql-a technical architecture of enterprise analytical database > >. In this speech, Mr. Wu shared the development process, technical architecture innovation practice of enterprise analytical distributed database TDSQL-A in detail and the future prospect of PG technology ecology in the future.
Lianzhuang Zhang, senior kernel R & D Engineer of QingCloud Technology, shared a variety of methods of misoperation data recovery and the use of relevant extension modules through the theme "PostgreSQL misoperation data recovery methods", and demonstrated the rich extension functions of PG.
Bo Liang, an AntDB kernel R & D expert of AsiaInfo technology, shared the theme "performance optimization of PG sub transaction", which described how PG sub transaction can flexibly deal with heavy business and how to use sub transaction to optimize business process.
Huayang Liu, a PG technical expert of easthome.com, comprehensively demonstrated the technical and ecological advantages of PG through the theme "advantages of PostgreSQL in commercial secondary development", and analyzed the selection ideas of domestic affairs and enterprise customers for the database.
The theme of Xiangbo Yang, the top blogger of pgfans technology community, is "DBA's in-depth understanding of PostgreSQL kernel experience sharing", which has shared his valuable experience for netizens in-depth learning and R & D of PG kernel, which is very worthy of reference.
In the theme "building a citus expansion and migration web platform with golang", Yuchuan sun, a PG lover, shared his experience and specific function implementation of developing a citus distributed database web management and control platform with the popular golang language.
English sub forums(A、B)
In the English forum, PG lovers from all over the world have carried out the theme sharing of PG's various functional features, application practice, development and innovation. International guests from different regions, with different English accents, shared carefully practiced technical topics, which are very worthy of PG users' reference and learning, and let everyone feel the enthusiasm of loving PG and willing to share all over the world.
In the morning's sharing session, Mr. Bruce mojian, a core member of PG international community, brought you the theme sharing of PG implementation plan and query optimization in the English Forum. The main contents include the execution process of SQL query request, three physical join modes affecting the work of the optimizer, key points of index optimization, the use of temporary tables and other optimization points. He explained in simple terms and set us a friendly and respectable example image of a PG preacher.
Next, Richard yen, chief support engineer of EDB, and Michael christofides, co-founder of pgmustard from the UK, shared the contents of PG execution plan from different angles through the themes explain explain: an introduction to explain plans and explain analyze beginner's Guide. Through sharing, we can understand the efficient management, operation and maintenance of the execution plan for the database, It plays a very key role. The content is not only suitable for beginners, but also for experienced engineers to comprehensively learn and use the execution plan to optimize the management of PG database.
Kohei Kaigai, chief architect & CEO of heterodb from Japan, shared with us the integration of PG and GPU in GIS field through the theme "improvement of PostGIS on GPU", and demonstrated PG's high-performance ability to process geospatial data in combination with PG's characteristic index gist technology. It has been well applied in the life field related to geospatial.
Paul Brebner, an instaclustr technology preacher from Australia, shared the theme "change data capture (CDC) using Kafka connect and debezium PostgreSQL sourceconnector", which can flexibly and efficiently transfer the data in PG database to other data demand scenarios through the company's R & D strength, Mature products embody the team's innovation based on open source. Debezium is an open source distributed platform for change data capture (relevant website: https://debezium.io/ ), if you are interested, you can get more information through the website.
Asif Rehman,the senior database architect from hornetlab technology in Pakistan ,introduced the history of PG replication technology through the theme "PostgreSQL replication", comprehensively explained the multi master implementation mode of replication technology and the main points of mainstream replication technology, and described the advantages, disadvantages and different application scenarios of PG stream replication and logical replication.
In the afternoon's topic, two senior database architects from percona LLC and hornetlab technology, ibrar Ahmed and Muhammad Usama, shared the topics "in-depth study of PostgreSQL index" and "what happened recently between PostgreSQL HA and pgpool II and pgpool II", It shows PG's rich and powerful indexing features and usage, and how PG can effectively deal with high availability and recent function optimization of pgpool II.
Cary Huang, senior database development engineer of hornetlab technology from Canada, introduced the key points of PG security control through the theme "the principle behind TLS and how to protect PG", and described in detail the implementation principle, configuration method and problem response of TLS (Transport Layer Security) in PG.
Karel van der Walt, CTO of mentalarrow company from South Africa, shared the theme of modular calculation through common table expression (CTE), which demonstrated the optimization effect of PG advanced function CTE technology through specific operations in application scenarios.
Yugo Nagata and Takeshi Mishima, two chief scientists from SRA OSS in Japan, shared the implementation of PostgreSQL internals and incremental view maintenance and middleware for synchronizing multiple instances in PostgreSQL cluster, which respectively demonstrated the function of incremental update of PG materialized view and solved the problem of PG stream replication by using Pangea + pgpoll-ii.
William Albertus Dembo, a Gopay cloud platform engineer from Indonesia, shared technological innovation and practice based on Patroni's high availability through the theme of Patroni and wal-g adoption cases of Indonesia's largest E-wallet
Tenent Cloud Database Sub Forum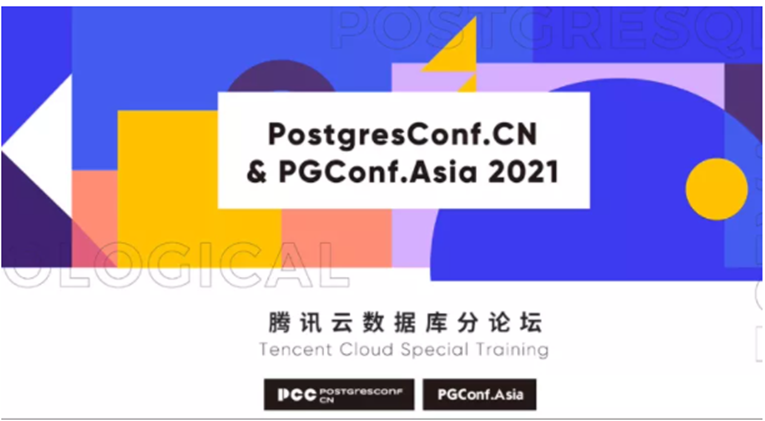 The conference specially invited five technical experts from Tencent Cloud database, a domestic first-line vendor, to jointly organize and launch the Tencent cloud database sub forum. Aisheng Chen (ADI), chief architect of TDSQL PG version, brought < < Oracle compatibility and financial enterprise customer case sharing > >, Chao AI, senior engineer of Tencent Cloud, brought < < application of logical replication in data migration > >, Zhichun Zhang, DBA of Tencent Cloud, brought < < kernel optimization and Devops practice based on super large-scale PostgreSQL cluster scenario > >.Canyang Xie, senior engineer of Tencent Cloud, brought < < tdsql PG version enterprise level distributed database technology innovation practice > >, and Chuanwen Zhou, senior architect of Tencent Cloud, brought < < TDSQL PG version efficient and intelligent operation sharing > >. The five sharing sessions introduced TDSQL PG database positioning, architecture, overall capability, function highlights, classic user cases and TDSQL PG efficient and intelligent operation system; The concept, principle, application scenario and future challenges of logical replication; General troubleshooting ideas and optimization methods.
Highgo Database Sub Forum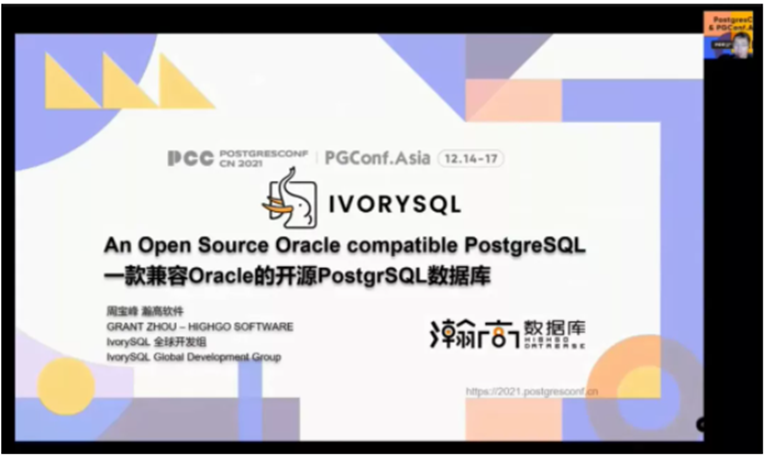 The conference specially invited the well-known domestic database vendor- Highgo database to jointly organize and launch the Highgo database sub forum.
Jichao Ma, pre-sales director of Highgo Database, brought < < Highgo database high availability components > >, and introduced some new features and functions of Highgo database in terms of database high availability in detail.
Baofeng Zhou, head of the Highgo team in the ivorysql open source community of Highgo company, brought < < an Oracle compatible PostgreSQL open source database IvorySQL> >, and introduced an Oracle compatible open source PostgreSQL database IvorySQL.
Qin Zhou, product director of SuperMap Research Institute of Beijing SuperMap Software Co., Ltd., brought < < Yukon (Yugong): Construction of GIS information creation base enabled by spatial database > >, and introduced the Yukon (Yugong) expansion module based on Highgo database to expand the storage and management ability of geospatial data.
Shaowu Li, business director of Xinchuang of UFIDA Network Technology Co., Ltd., brought < < UFIDA NC cloud large enterprise digital platform solution based on Highgo Database > >. UFIDA NC cloud based on highgo database provides high-performance and reliable data guarantee for the digital transformation of large enterprises.
Yang Liu, senior consultant of Beijing Seeyon Internet Software Corp, brought < < Seeyon collaborative operation platform cop tamping the digital base of new infrastructure > >, introduced the Seeyon collaborative operation platform cop based on highgo database to create a benchmark for collaborative application practice.