Mandarin sub-Application Forum(A)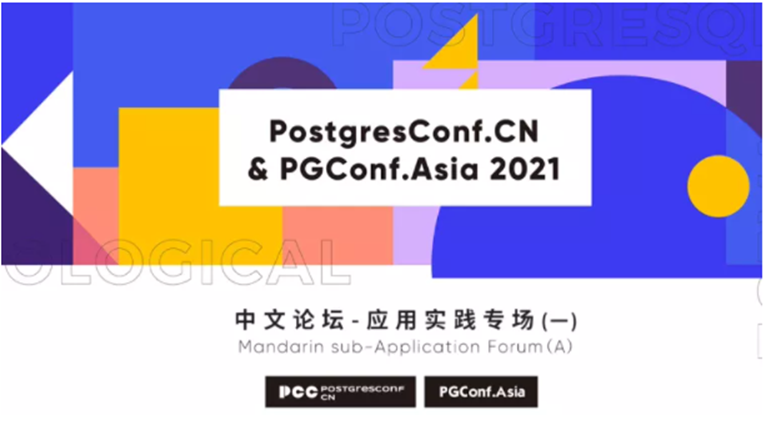 Hui Huang, senior engineer of Tencent Cloud, with the theme of << practice of building PostgreSQL cross availability zone capability >>. Mr. Huang first introduced the database high availability evaluation system and the evolution of high availability architecture, then explained in detail the cross availability area capability objectives and cross availability area capacity-building content, and then shared the cross availability area architecture practice and the availability judgment rules of cross availability area instances. Mr. Huang's sharing is the best practice of building a PostgreSQL cross availability zone. Enthusiasts who pay attention to the high availability of the database must watch the playback and study carefully.
Ji Xu (Bai Shan), CTO of dfcdata company(dfcdata.com.cn), with the theme of << path divergence and convergence in Postgres intelligent diagnosis >>. Mr. Xu first explained the reasons for automatic diagnosis, then expounded the technical idea of realizing database automatic driving - knowledge map, and then explained the good results achieved by the automatic diagnosis tool based on knowledge map on pg. then, Mr. Xu expressed his vision of cooperating with the community to improve the automatic diagnosis tool.
Feixiang Zhao, senior DBA of airwallex, with the theme of << PostgreSQL distributed database exploration and attempt >>. Mr. Zhao first explained the concept, architecture and application scenarios of distributed database, and then described the implementation of distributed database. Finally, Mr. Zhao explained the practical experience of airwallex distributed database selection.
Bo Zhang, Highgo database engineer, with the theme of << PostgreSQL full text search>>. Mr. Zhang introduced the knowledge of PostgreSQL full-text search, including fuzzy query, full-text search data type, full-text search operator and full-text search function, and then introduced the implementation methods of Chinese full-text search: zhparser and PG_ Jieba, finally, a practical example is used to illustrate the use process of full-text search.
Xu Cui, general manager of sandata(http://www.sandata.com.cn), with the theme of << internal data storage and reading in PostgreSQL >>. Mr. Cui introduced the content of this speech from a problem: internal storage and allocation of page data and HOT mechanism. By quoting the storage source code of the page, Mr. Cui explained the internal storage and allocation mechanism of page data in detail, and did an experiment to demonstrate the mechanism. Then Mr. Cui explained the hot mechanism in detail through experiments. Mr. Cui 's rich theoretical and practical experience has deeply impressed the audience.
Hao Xu, Devops manager of Hangzhou MeiChuang Technology Co., Ltd., with the theme of << talking about PG distributed high availability Architecture >>, Mr.Xu first explained various concepts of distributed high availability architecture: cap theory, base theory, Paxos protocol and raft algorithm, then listed six mainstream distributed high availability architectures in PG database, and explained the advantages and disadvantages of these six architectures respectively, It's a lot of essences. Please watch the playback and learn carefully.
Shijie Xian, Devops manager of Highgo Database, with the theme of << logical synchronization scheme of PostgreSQL >>. Mr. Xian first introduced the basic concept, applicable scenarios and various restrictions of logical replication, explained the concept and function of replication ID and replication slot, and the key points of replication slot management in special scenarios. Finally, Mr. Xian explained how to solve the problem of data circular replication in a two-way synchronous environment. Starting from the technical details, Mr. Xian explained the panorama and key points of the whole life cycle of logical replication. From this speech, we can see the profound skills of Highgo engineers in logical replication technology.
Mandarin sub-Application Forum(B)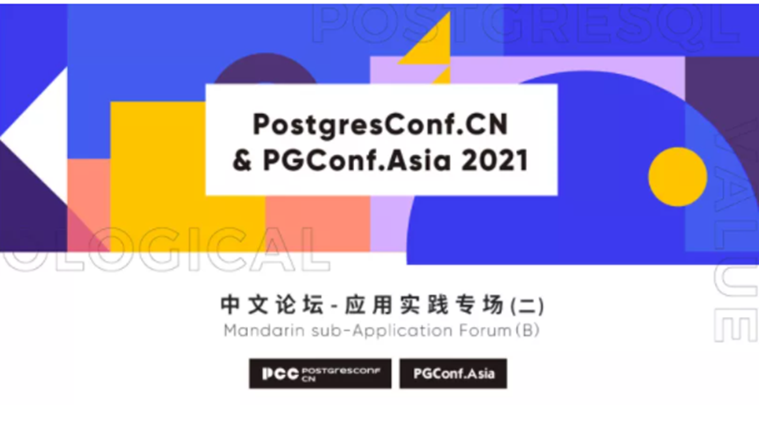 Peng Cui, the delivery director of hytera's database business, with the theme of "pgha practice in the field of private network communication". Mr. Cui outlined the requirements of private network communication business for database selection, the selection of PostgreSQL high availability solution, and the customized development of PostgreSQL high availability by hytera's technical team. Finally, Mr. Cui outlined the PostgreSQL high availability test method.
Chong Peng, PG ACE and senior DBA, with the theme of << pgdata data directory reorganization case sharing >>. Mr. Peng explained the method of database recovery with a recovery case of mistakenly deleting the pgdata directory of PostgreSQL. This recovery case can be said to have a lot of essences, from which you can learn more knowledge points.
Le Yu, DBA of the BTG Homeinns Hotels (Group), with the theme of << relocation of member libraries of large chain hotels to PostgreSQL and high availability >>. Mr. Yu first explained the current situation of the Oracle database to be migrated and the preparation measures before migration, and then discussed the problems encountered in the migration process and the treatment methods, as well as the implementation of PostgreSQL high availability and monitoring solution after migration.
Dianbin Jiang, director of enmotech training products, with the theme of << Function and optimization of shared_buffers in PostgreSQL architecture>>, Mr. Jiang first explained the architecture of PostgreSQL in detail, demonstrated the life cycle of data blocks through experiments, and proposed shared_buffers Optimization suggestions and the use of related extensions
Xue Wang ,DBA,a bank software R & D center, with the theme of << in depth analysis of PostgreSQL parameter optimization under distributed architecture >>. Ms. Wang described the current distributed data architecture and the data processing bottleneck under the architecture. Then, in order to solve the bottleneck, Ms. Wang carried out the exploration and practice of wal and checkpoints. Then, Ms. Wang put forward the parameter optimization suggestions of wal.
Xin Li ,Panguyun specially invited senior lecturer ,with the theme of << mvcc mechanism in PostgreSQL >>. By way of example, Mr. Li vividly expounds the mvcc mechanism in PostgreSQL: transaction control, acid characteristics of transactions, transaction status, concurrency problems and the implementation of transaction snapshot.
Mandarin sub-Application Forum(C)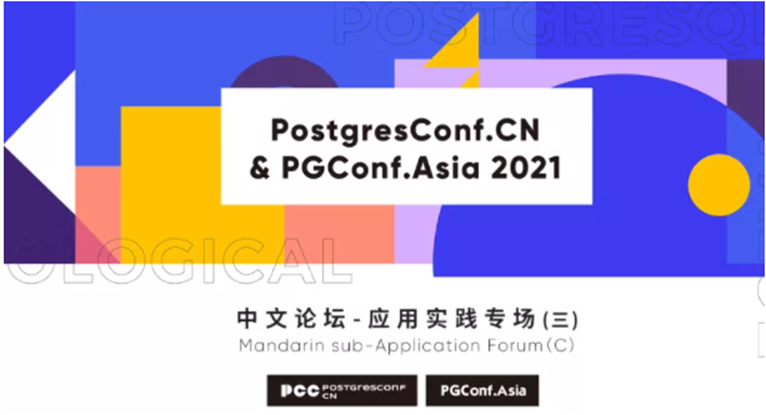 Yijun Guo, chief architect of yunbee.net, with the theme of <<case analysis of SQL Tuning Application of PostgreSQL domestic Distributed Database >>. In this speech, Mr. Guo shared the experience summary of SQL optimization, such as the selection basis of fragment key, eliminating sorting by index and increasing work_mem parameters, rewriting into equivalent SQL statements, etc. For details of the optimization method, please see the replay of Mr. Guo's speech.
Ping An technology DBA Cancan Xiong, the theme is << from scratch, how to solve the Devops pain points under traditional PostgreSQL >>. Mr. Xiong listed various pain points in the native PostgreSQL database that are not convenient for Devops, such as lack of mature Ash and AWR, failure of slot, 32bit transaction ID, lack of native connection pool, etc. for solutions to these pain points, please see Mr. Xiong's wonderful replay.
DBA Zhixin Gan, an active user of PGFans, has the theme of < < PostgreSQL scenario application - combining requirements and DB features to achieve 10 billion data query millisecond response > >. In this speech, Mr. Gan listed the seemingly simple practical business scenario and the problems under the support of huge amount of data. Based on his deep technical understanding of PostgreSQL, Mr. Gan proposed a subtle method to query 10 billion data in milliseconds. For more information, see playback.
Zhengqiang Duan,the Java senior engineer of SphereEX company, and the theme is << PostgreSQL incremental service ecological practice >>. Mr. Duan first introduced the product positioning and core capabilities of the database middleware Shardingsphere, as well as the implementation of transparent segmentation of PostgreSQL data. Mr. Duan also introduced the in-depth support for PostgreSQL database in Shardingsphere.
Zefu Yuan, technical director of Shandong Huihong Fanzai Electronic Technology Co., Ltd., with the theme of << Greenplum data migration and synchronization >>. Mr. Yuan first combed the infrastructure of Greenplum, explained the reasons and necessity of migrating to Greenplum, and explained the process steps and relevant key points of migrating to Greenplum. Finally, Mr. Yuan introduced the method of verifying data consistency.
Yang Li, DBA of hytera database development, with the theme of << application and practice of foreign data wrapper in the field of private network communication >>. In this speech, Mr. Li vividly explained the multi-directional data synchronization cases of different data sources using foreign data wrapper in multiple customer scenarios in the form of actual case sharing. Through Mr. Li's speech, PGers have experienced the powerful expansion function of FDW.
DBA Yi Hu, active user of PGFans, with the theme of << PostgreSQL high availability pacemaker solution>>. Mr. Hu first introduced the main functions and architecture of pacemaker, and explained the cluster mode supported by pacemaker and the daily management tools and characteristics of pacemaker
University Research Forum
This morning's PG industry university research forum specially invited representatives of outstanding university teachers who have close cooperation with China PostgreSQL Association and domestic database vendor to share with us the experience and achievements of database database teaching reform for open source PG, which has played an effective role in promoting the cultivation of talents who master the core technology of database software, It is very worthy of reference and practice by more colleges and universities across the country.
The speech theme of associate professor Jing Qi of Peking University is the practice of PostgreSQL in open source education of Peking University Software College. Peking University software and micro college is one of the first batch of characteristic demonstration software colleges in China. And the only characteristic research field is key infrastructure software. The topic introduces that the College of software and microelectronics of Peking University adopts a lightweight dual track open source teaching framework, which is fully participated and supported by China PostgreSQL Association, including 32 class hours of open source basic courses and 24 class hours of project practice courses, which fills the gap of domestic open source development courses. At present, the open source development demonstration course of the College of software and microelectronics of Peking University has been carried out to the second postgraduate, It has been highly praised by teachers and students of the school.
The theme of Professor Jianbin Qin, a distinguished professor of Shenzhen University, is the implementation of PostgreSQL in database core teaching of Shenzhen University. Professor Qin is an active promoter of PostgreSQL database teaching reform in China and the first guide to introduce PostgreSQL into undergraduate database core teaching in Shenzhen, Through the theme, we shared with you that through the integration of China PostgreSQL Association training and certification course, Tencent distributed database materials and PG core course of Wuhan University, he organized undergraduate teaching content with PG as the theme. Combined with the online platform, we carried out open source PG core development teaching for undergraduates, so that database teaching can be combined with enterprises, Guided by the talent training oriented to the needs of enterprises, cultivate undergraduates and promote employment.
Associate Professor Lixia Ji, School of software, Zhengzhou University, brought you a speech with the theme of << database and in-depth learning - challenges and opportunities >>. Since 2020, China PostgreSQL Association has cooperated deeply with the school of software of Zhengzhou University to jointly build Henan provincial characteristic demonstration software college and Henan Provincial postgraduate education innovation and training base. This topic introduces that Zhengzhou University, relying on Xinchuan, with the topic of database teaching reform, combined with the power of first-line domestic database vendoer Highgo software, combined with AI in-depth learning, optimized database connection query and other technologies to organize courses, carried out teaching, and achieved phased innovative achievements in the combination of database and AI.
The speech themes of Associate Professor Yanhui Ding and Associate Professor Yongxin Zhang of the school of information science and engineering of Shandong Normal University were << research and application of database practice teaching platform based on PG >> and << research on DBMS system implementation courses and teaching materials based on PG Database >>. In the previous database practice teaching work, Yanhui Ding , Yongxin Zhang and others have always hoped to have a set of teaching materials similar to Stanford University database for explanation and practice. With the support of China PostgreSQL Association, Yanhui Ding and Associate Professor Yongxin Zhang organized a number of young doctoral teachers to compile and develop the teaching materials and database practical teaching platform based on PG database system. This year, it has carried out teaching application practice in Shandong Normal University and some brother colleges. Good response has been obtained. This also strengthens the confidence of the team to further develop the iterative teaching platform.
The speech theme of Associate Professor Chaoyang Fu of Suzhou University of Science and Technology is << promotion of PG training certification system in undergraduate IT basic training >>. As an important part of PostgreSQL database knowledge learning system, PG training certification system plays an important role. In the past, all kinds of training in the database were mostly for on-the-job personnel, while undergraduate students were a group without practical work and engineering experience. They must rely on the PG training certification system, the only systematic PG training system in China, and carry out adaptive design and transformation according to the actual cognitive level of zero foundation students. According to the concept of open source cooperation, China PostgreSQL Association actively develops teachers of various colleges and universities to carry out secondary training course development. Among them, Associate Professor Fu Chaoyang of Suzhou science and technology University is one of the representatives who have achieved strong results.