The conference was organized by China open source software promotion Union PostgreSQL Association, postgresconf International Conference and PG Asian community.PGCentral Foundation of the United States, United States PG user group , Europe PG user group , Japan PG user group , Indonesia PG user group, Korea PG user group, Philippines PG user group, Pakistan PG user group, Thailand PG user group, Vietnam PG user group and The Russian PG user group assisted in organizing this meeting.This conference continues to be listed as gold standard conference in the PostgreSQL.org website.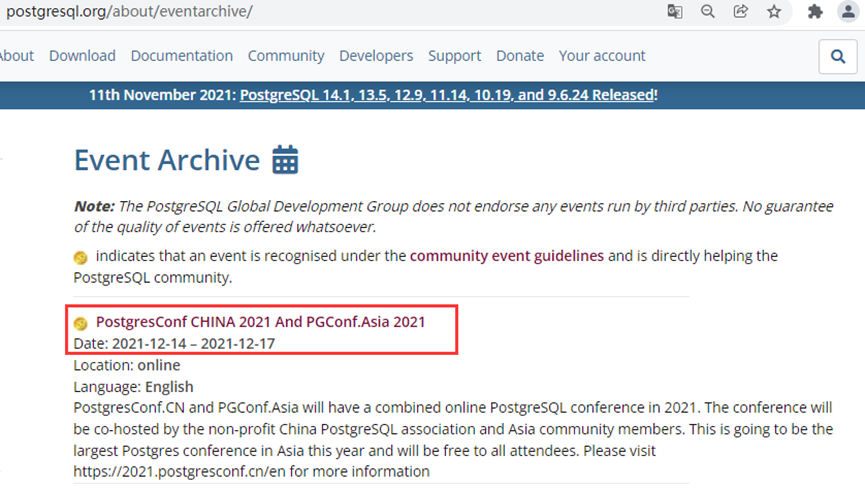 There are 14 live channels for the conference, namely the main forum English Forum (A), English Forum (B), Seoul sub forum, Jakarta sub forum, Tencent cloud database sub forum, Chinese Forum kernel session (A), Chinese Forum kernel session (B), Chinese Forum kernel session (C), Chinese Forum application practice session (A), Chinese Forum application practice session (B), Chinese Forum application practice session (C) , Highgo Database sub forum and PG industry university research sub forum. It covers four speech languages: Chinese, English, Korean and Indonesian, and is broadcast live all over the world!
The conference gathered 101 technical reports, including Guangnan Ni, academician of the Chinese Academy of engineering, Peng Liu, vice chairman of the China open source software promotion union, Chunxiao Xing, deputy director of the information system special committee of the China Computer Federation, Bruce Momjian, co-founder of PostgreSQL international community, Peter Zaitsev, CEO of percona company, and Zhiming Ding, director of the space-time data science research center of the Chinese Academy of Sciences; Tencent Cloud database, Inspur Power System, Kylin software, Highgo Database, MeiChuang Technology, SphereEX, Inspur ZNBase, VMware Greenplum, Huawei, Alibaba Cloud, Ping An technology, postal savings bank, ZTE, dfcdata.com.cn, ymatrix.cn, QingCloud, SuperMap software, UFIDA network, Beijing Seeyon Internet Software Corp, AsiaInfo technology, hytera, enmotech,airwallex, catinfo(catinfo.com.cn), zetuo technology, pgedu.cn,easthome.com, sandata.com.cn,yunbee.net, BTG Homeinns Hotels (Group) ,Huihong Fanzai(www.huihongdianzi.com), etc; Peking University, Tsinghua University, Institute of information technology, Chinese Academy of Sciences, Shenzhen University, Zhengzhou University, Shandong Normal University, Suzhou University of science and technology and other academic and scientific research institutions; And AWS, IBM, Microsoft, EDB, SRA OSS, NTT, Fujitsu, HornetLab, Instaclustr, pgMustard, Mentalarrow, GoPay, Equnix Business Solution(equnix.asia), ktds, ICT way, Insignal and other overseas PG ecological enterprises located in the United States / Canada / UK / Japan / South Korea / Indonesia / Pakistan / South Africa / Australia.
PGConf.Asia 2021 organizing committee pays high tribute to all speakers!
As usual, it would be difficult for us to hold this event without the support of sponsors.
Special thanks to our platinum sponsors:
Tencent cloud database
https://cloud.tencent.com/
AWS
https://aws.amazon.com/
Highgo Database
http://www.highgo.com/
And our gold sponsor:
Inspur Power System
https://www.inspur.com/
Microsoft Azure
https://azure.microsoft.com/
And our silver sponsor:
IBM
https://www.ibm.com/
Kylin software
https://www.kylinos.cn/
Equnix
Contact me
Finally, in 2022, no matter whether the hosting form is online or offline, what changes is the environment and what remains unchanged is our belief in PostgreSQL.
Whether you are a guest who wants to give a speech or a software and hardware enterprise who wants to go with PostgreSQL. You can use:
Tel / wechat: 15863186550
Email: wangqida@postgresqlchina.com
Contact us, we will be happy to help you, and look forward to seeing you next year!